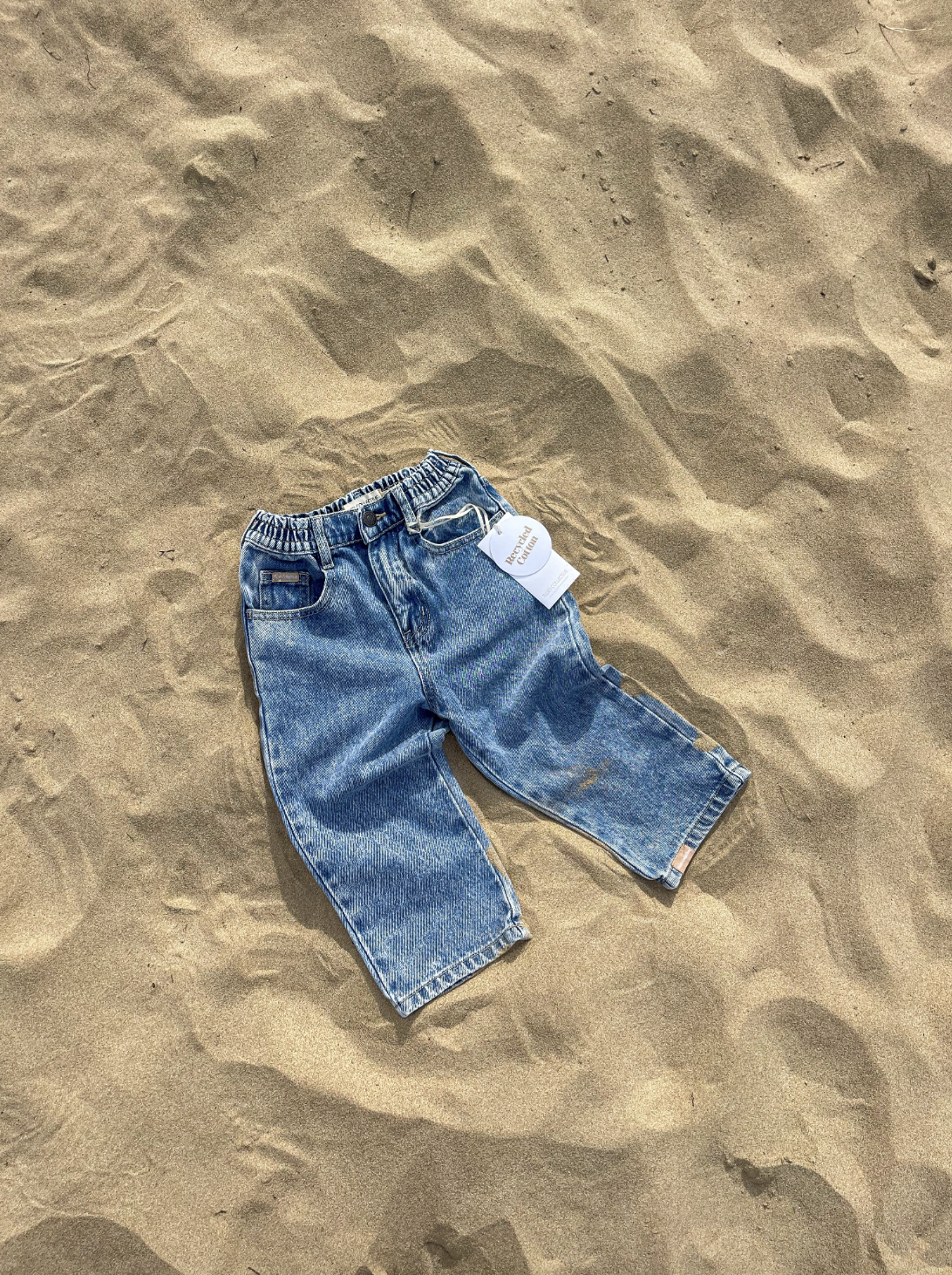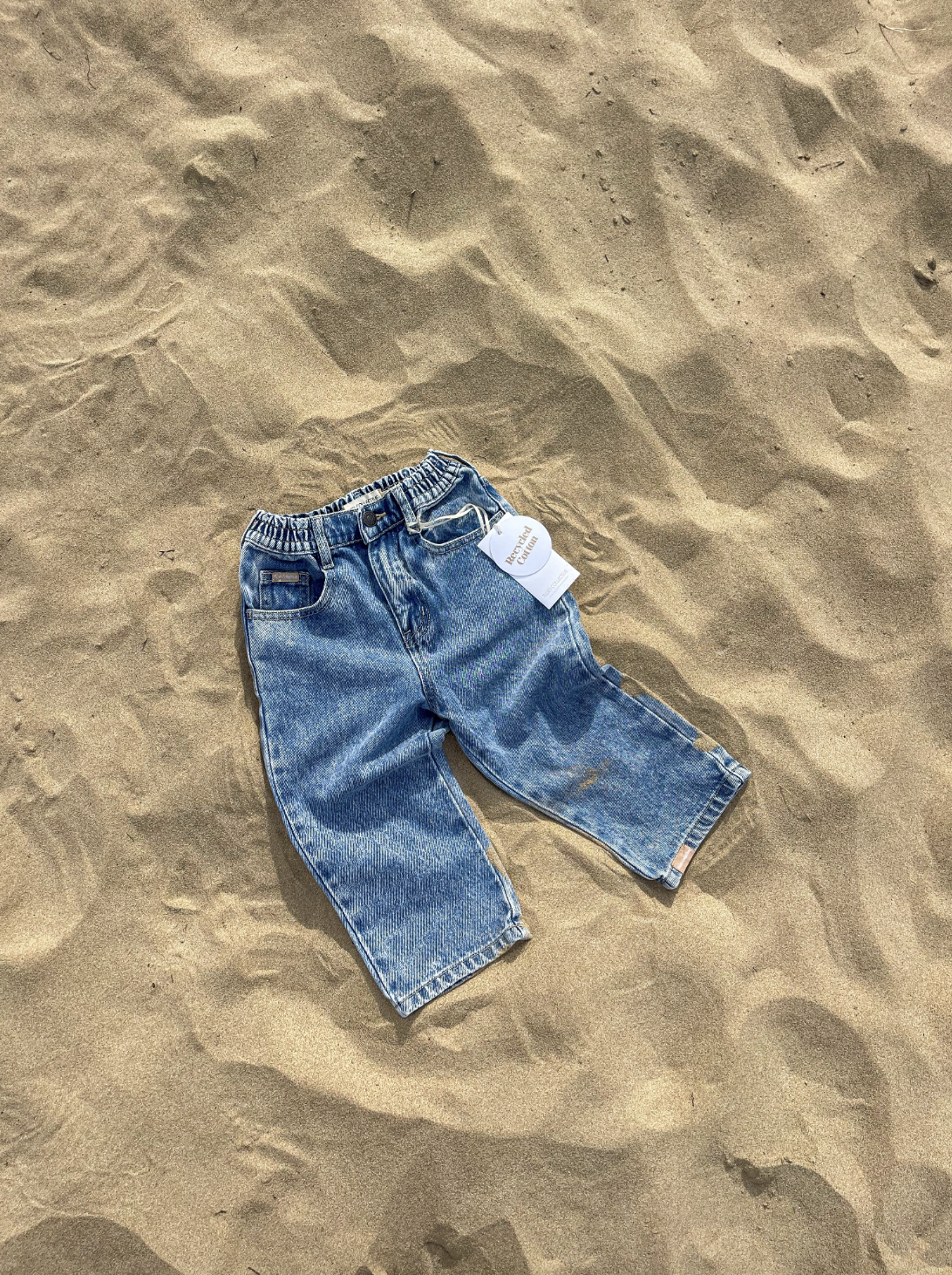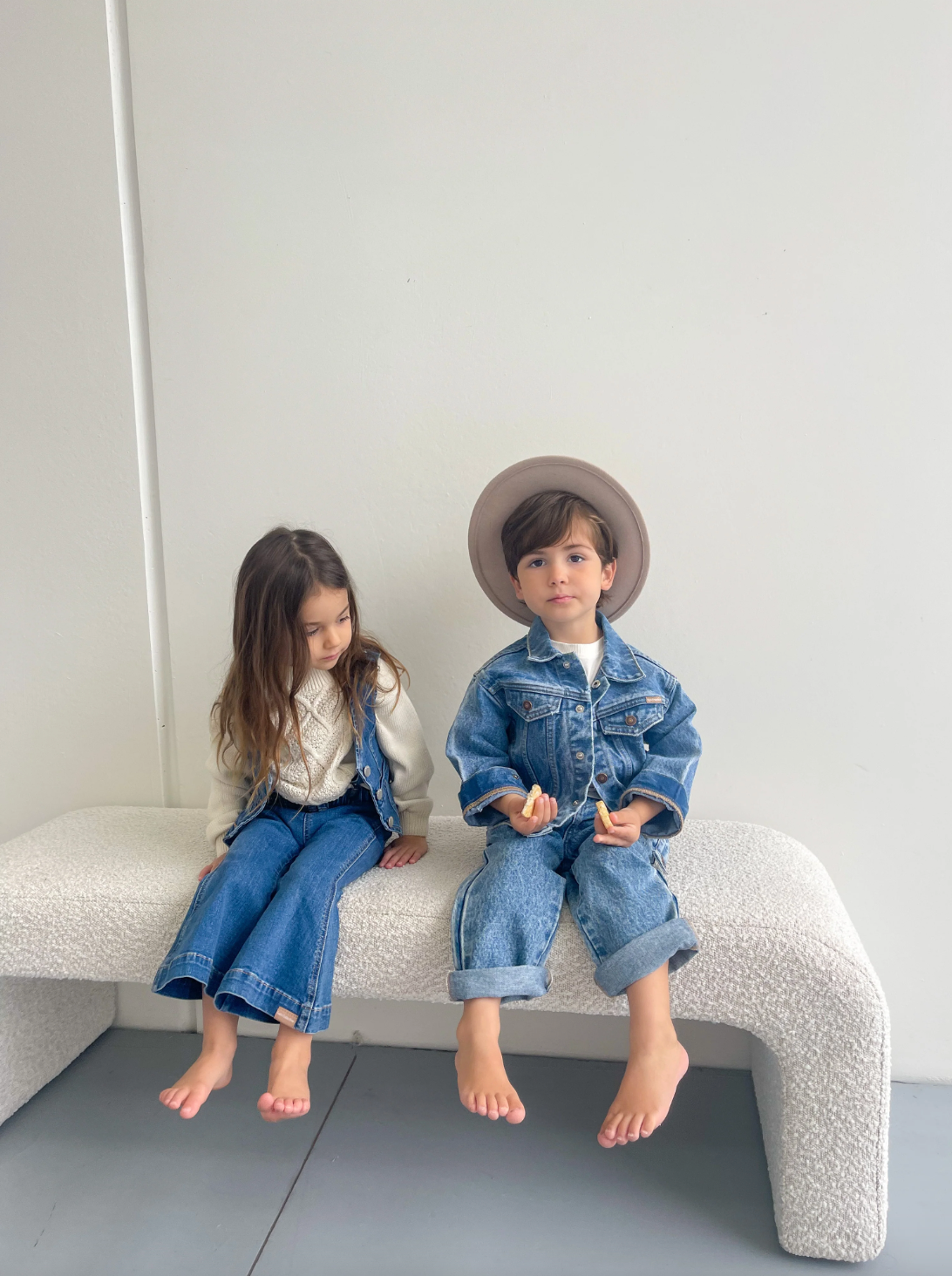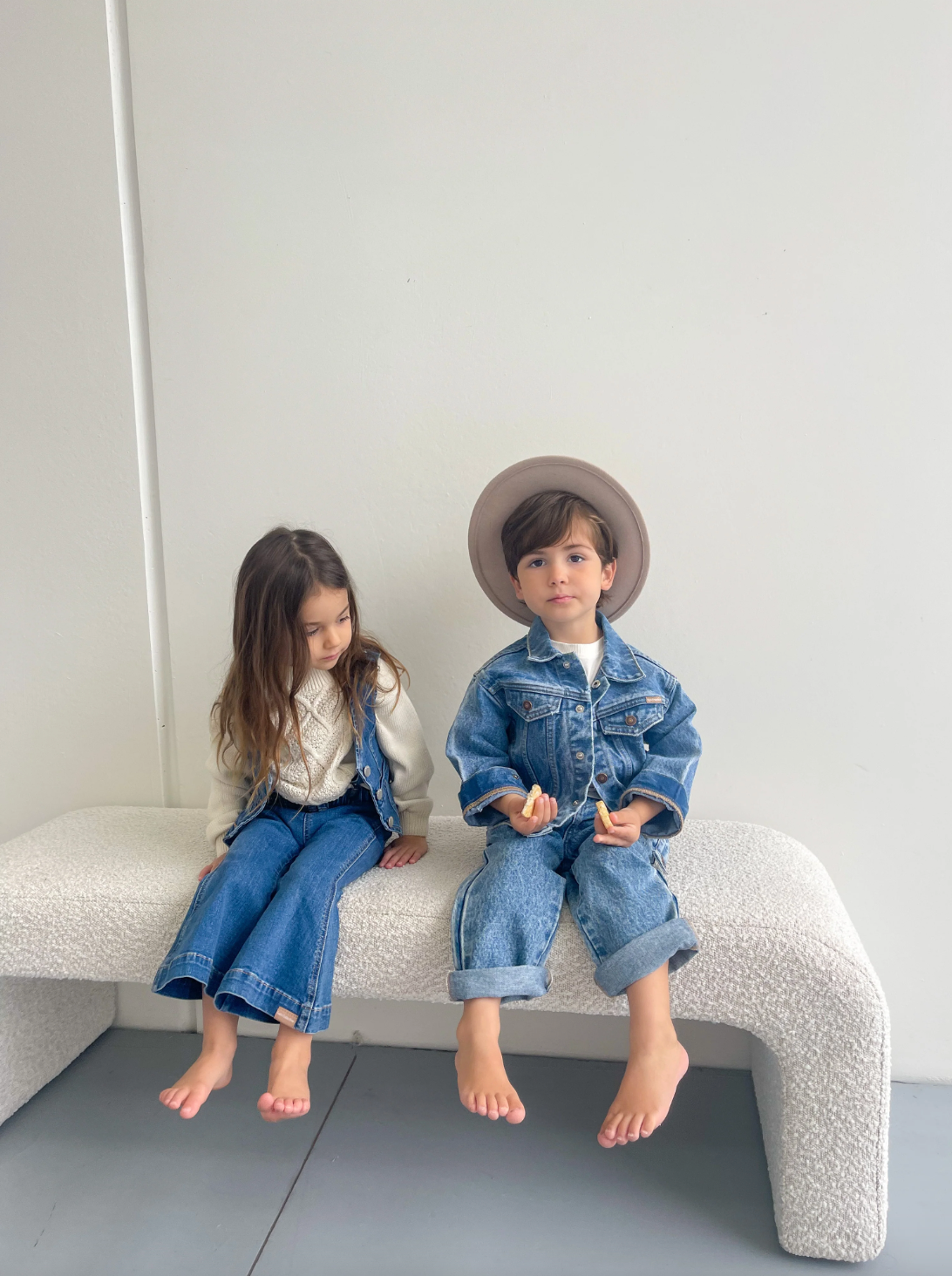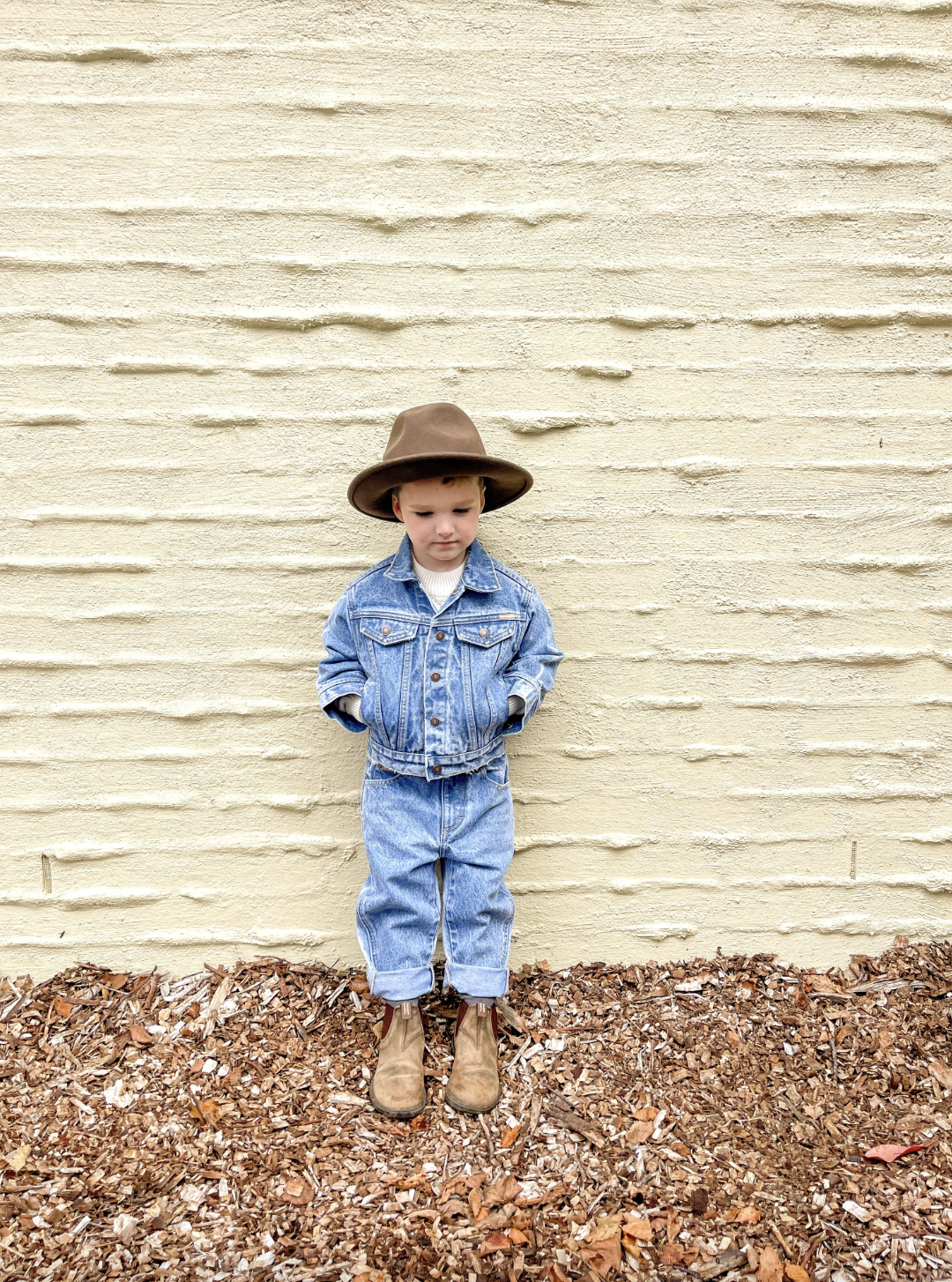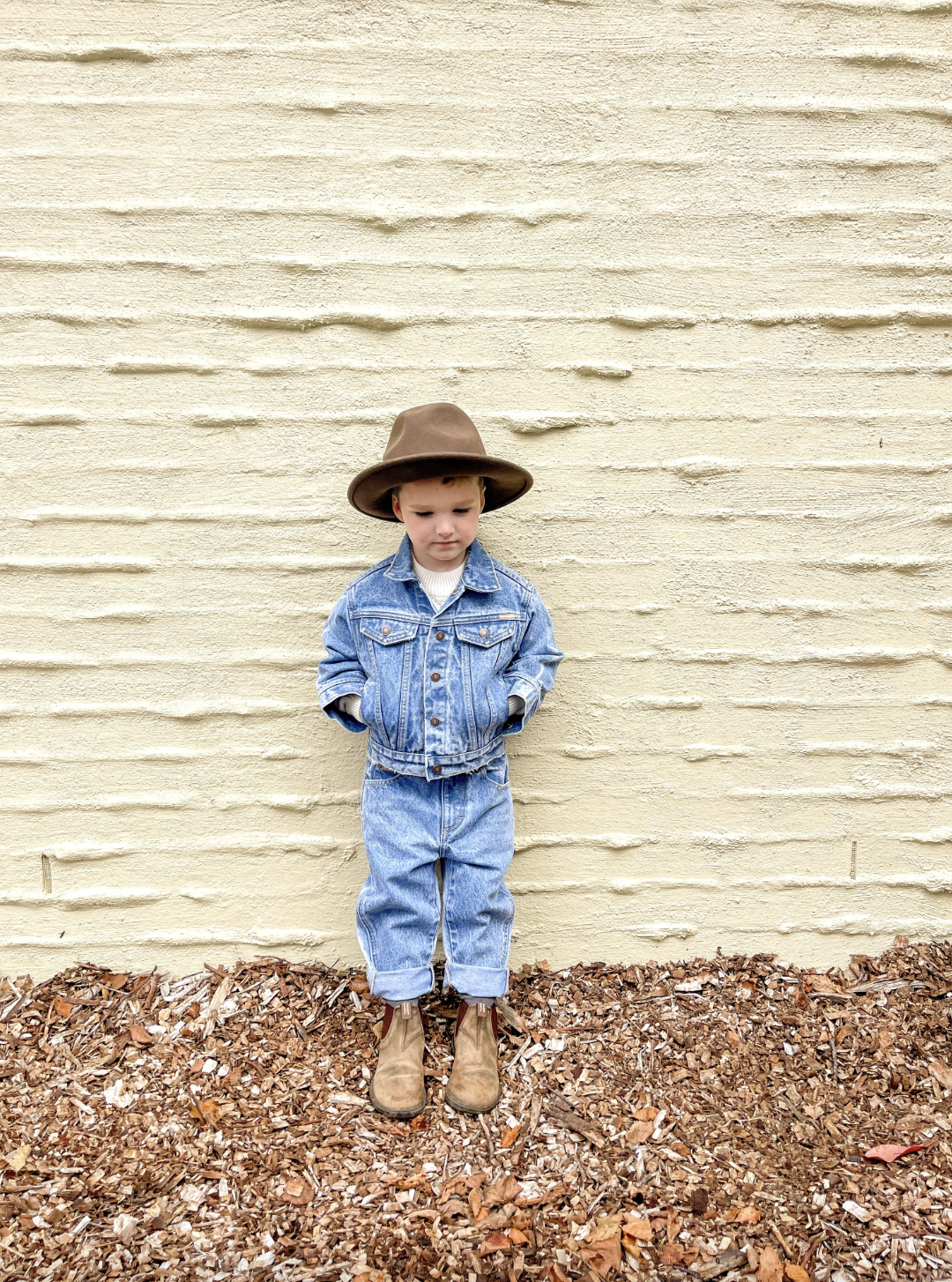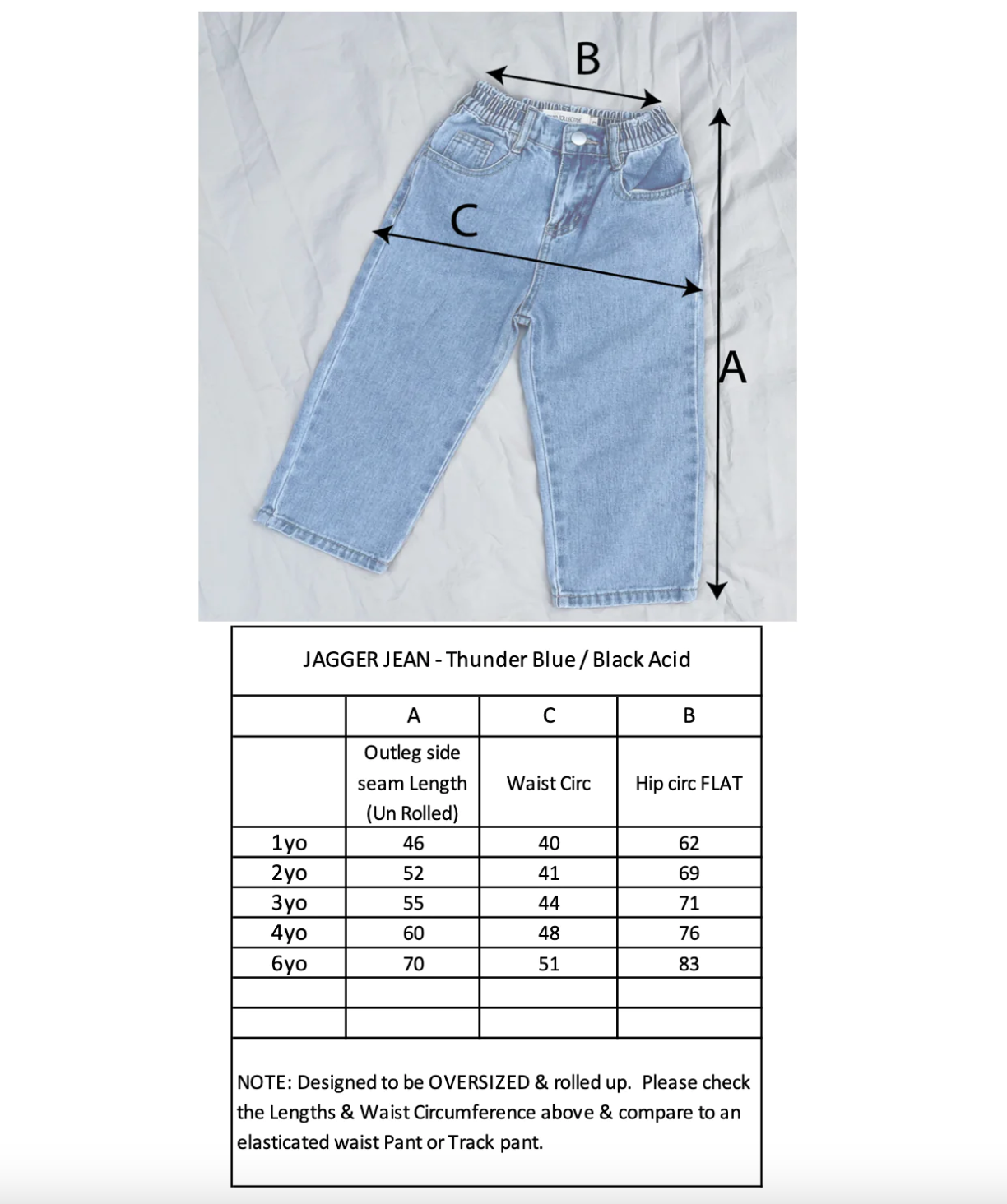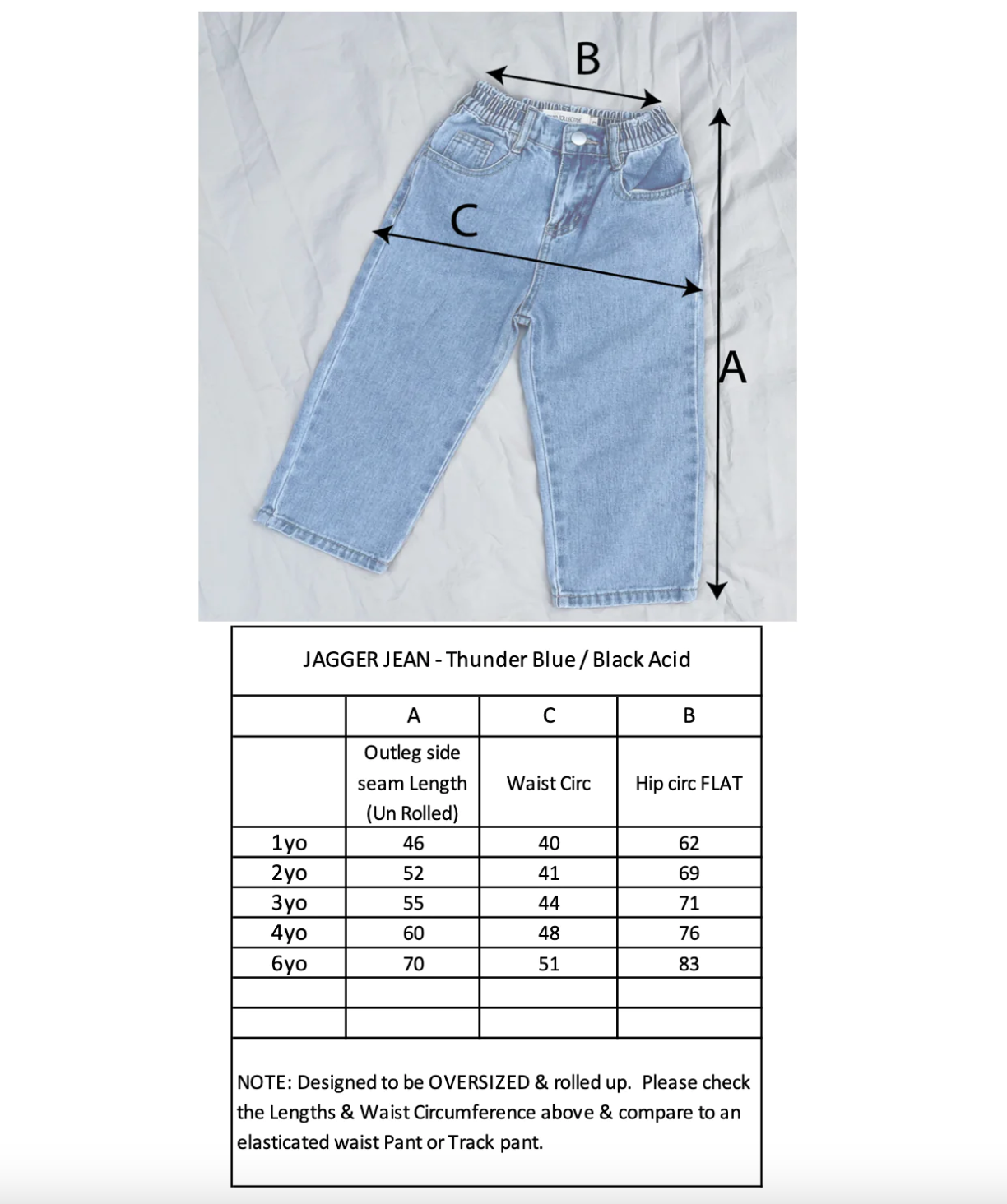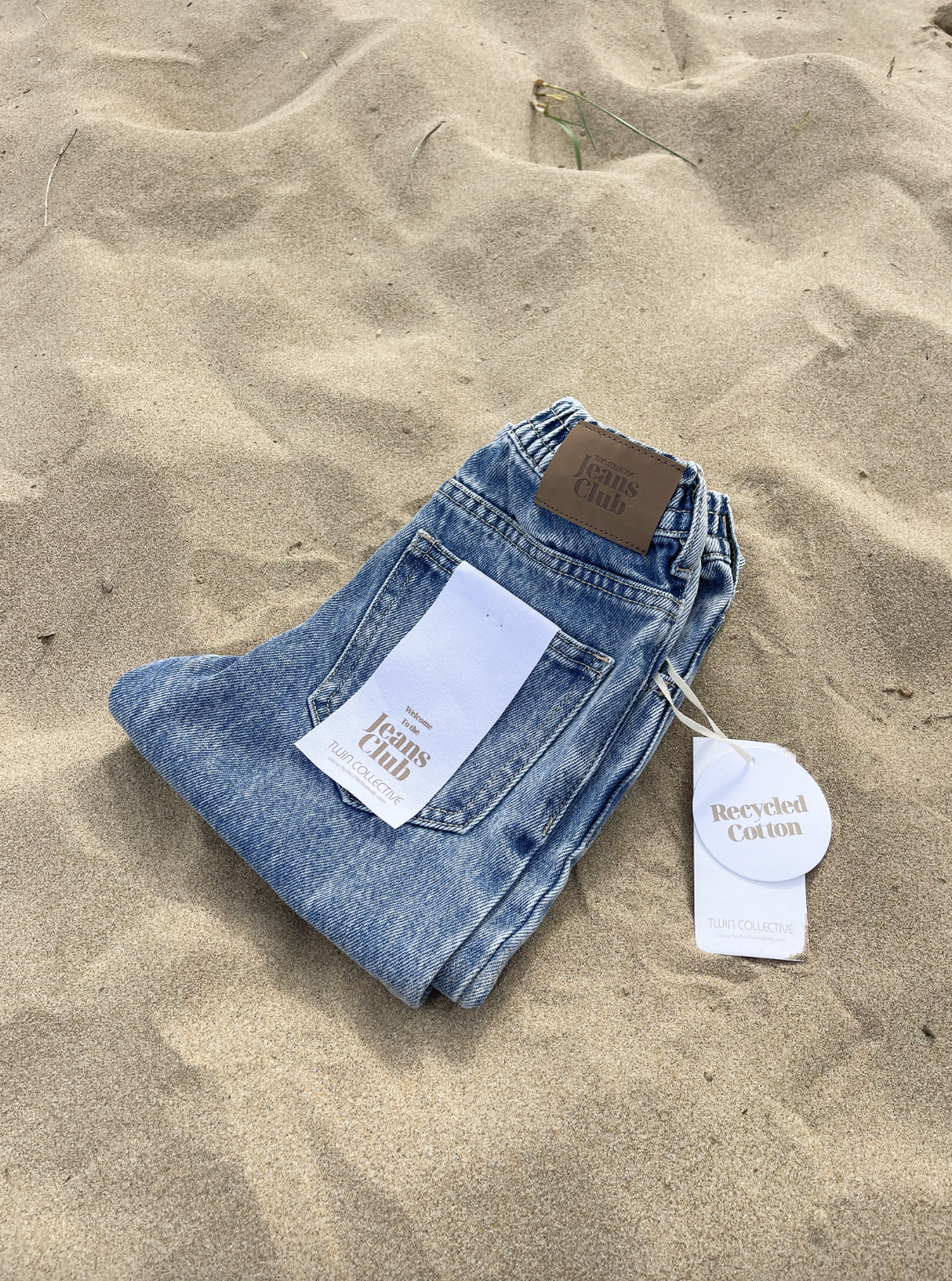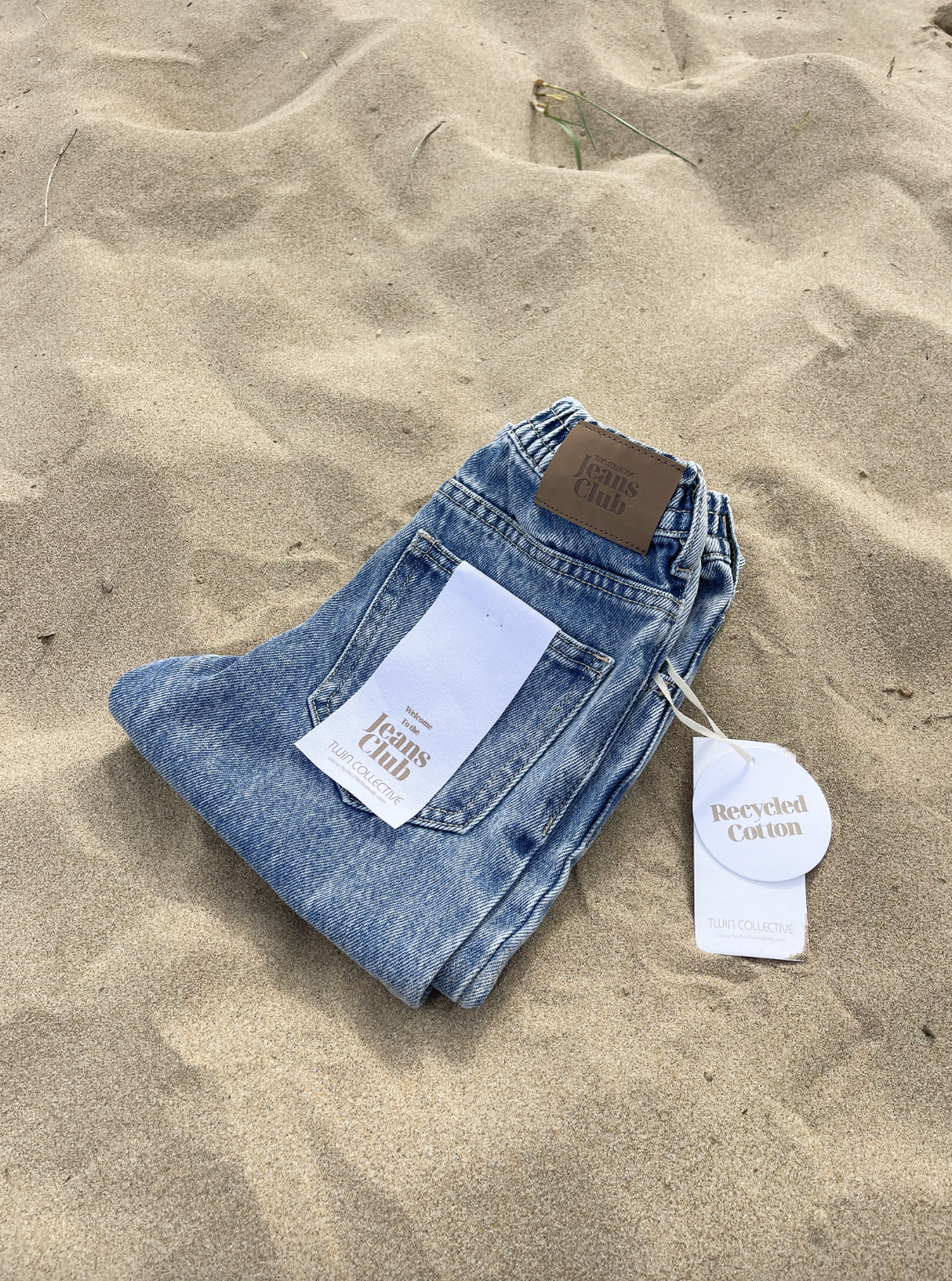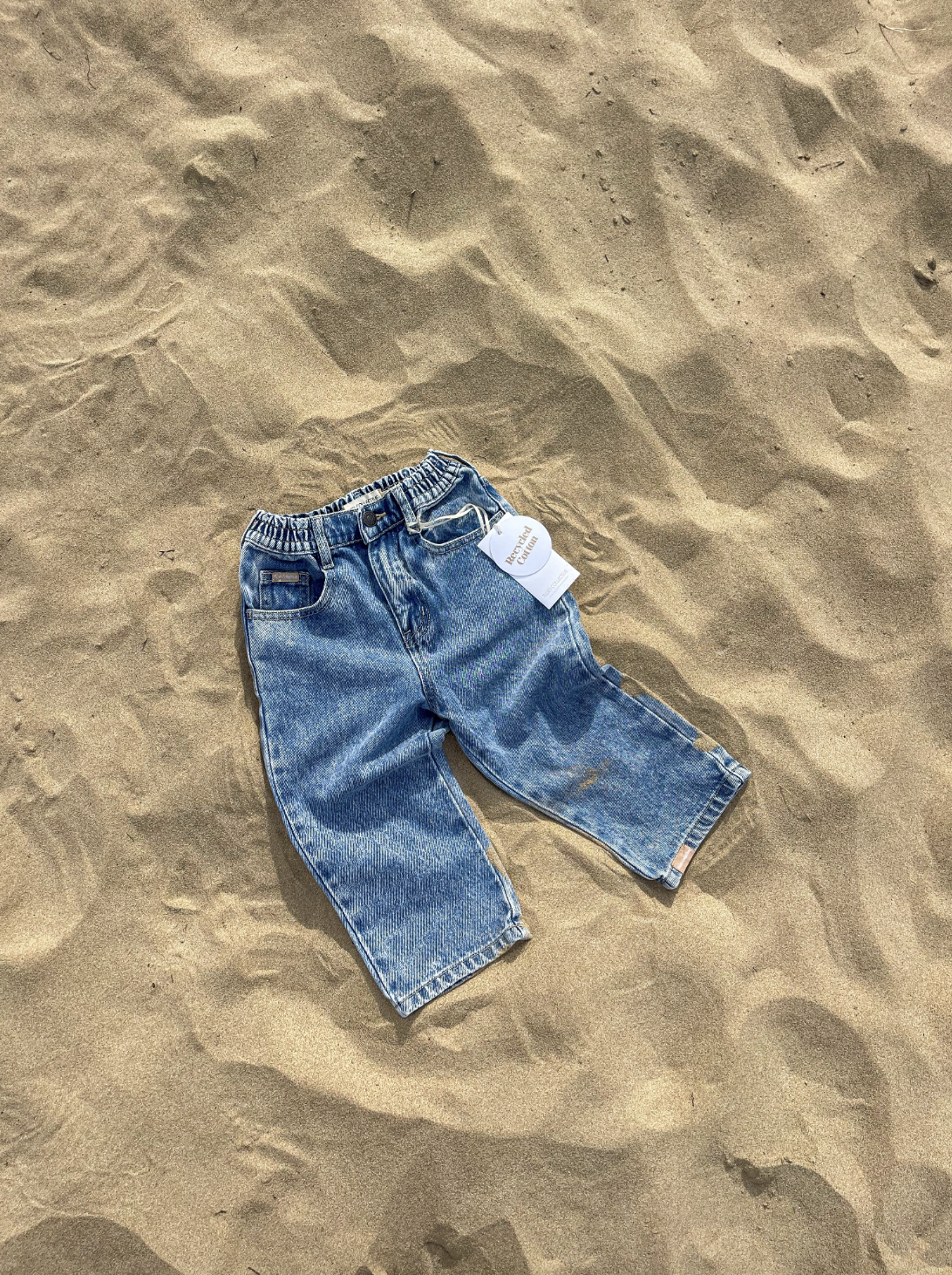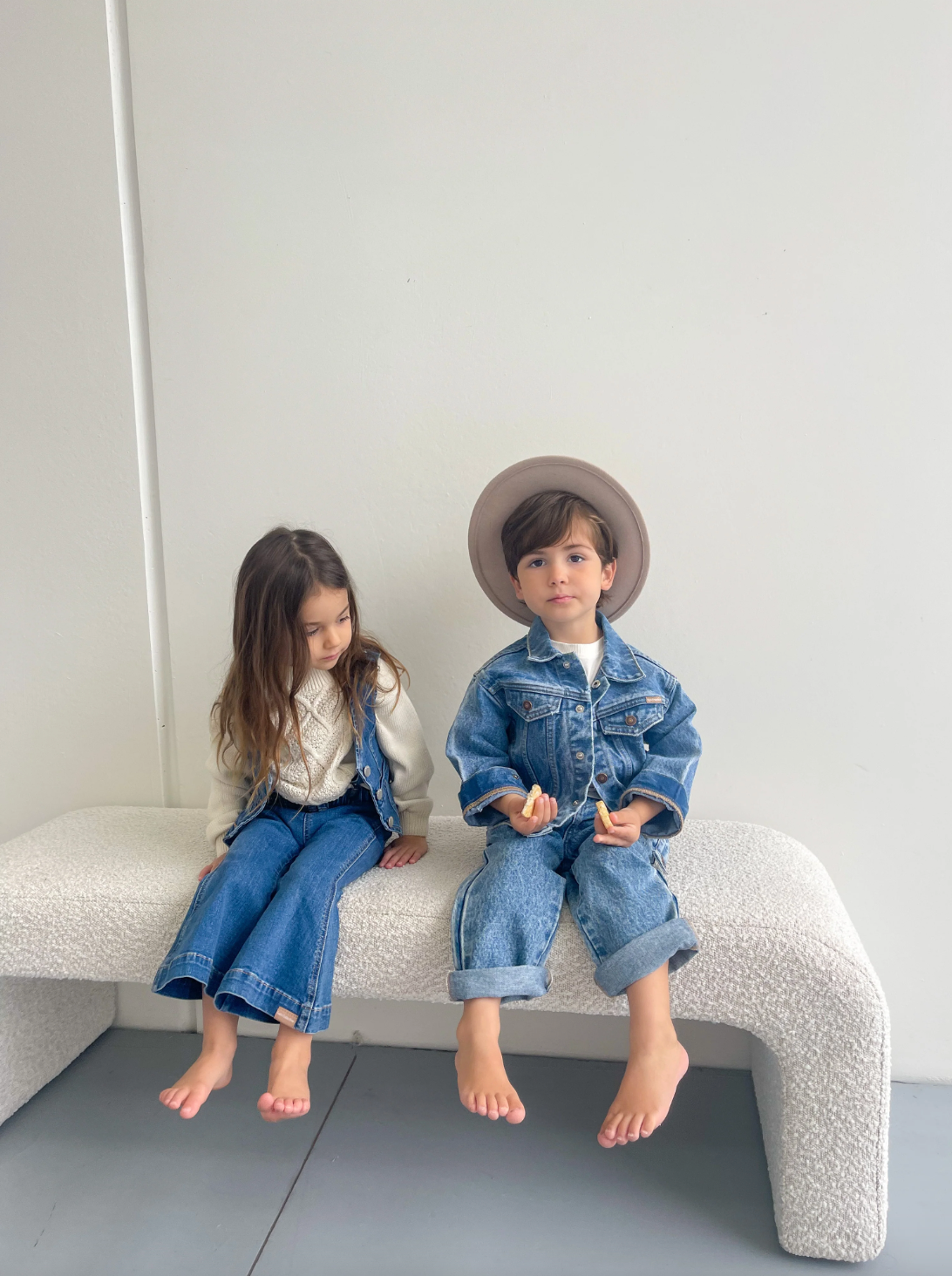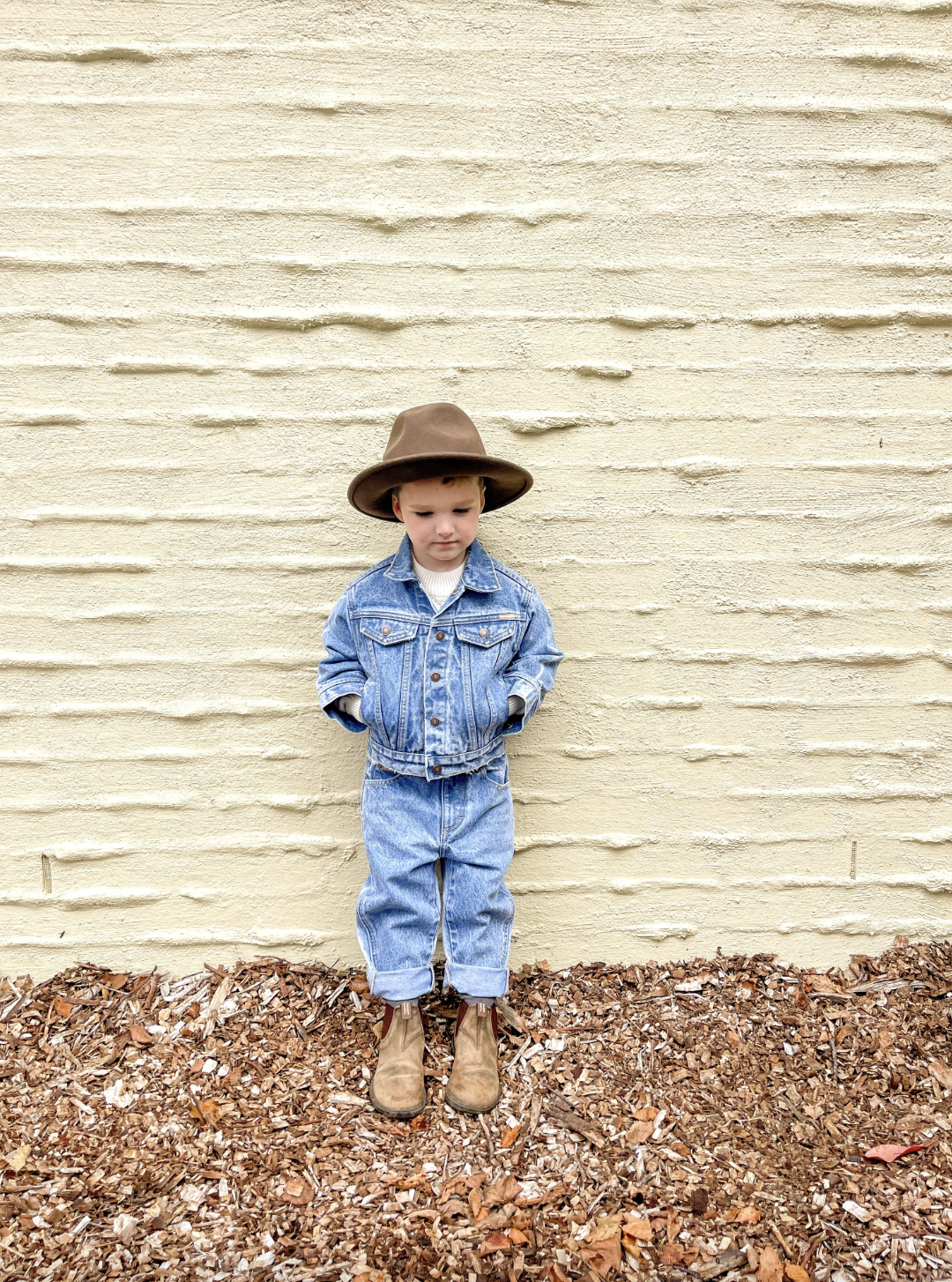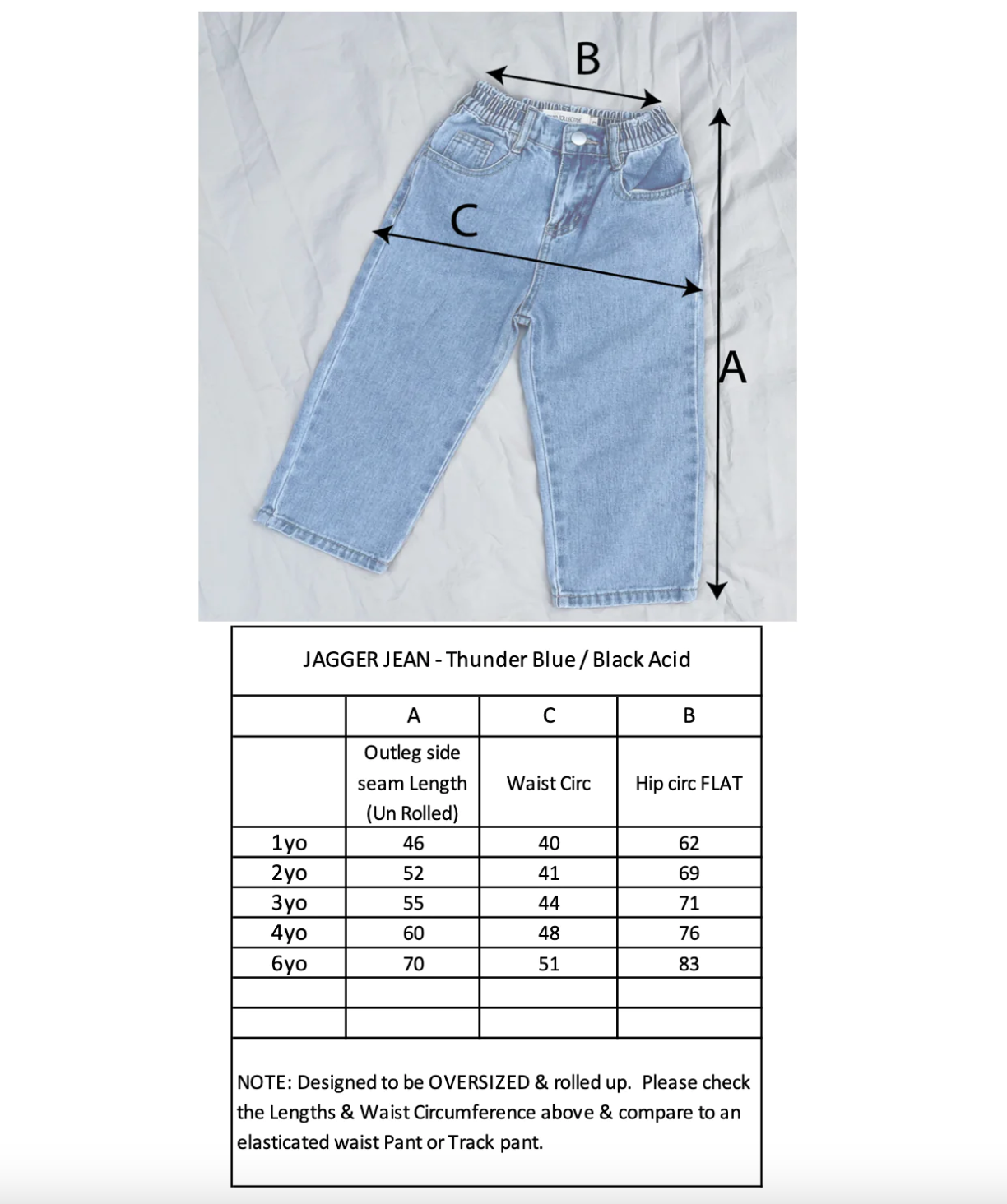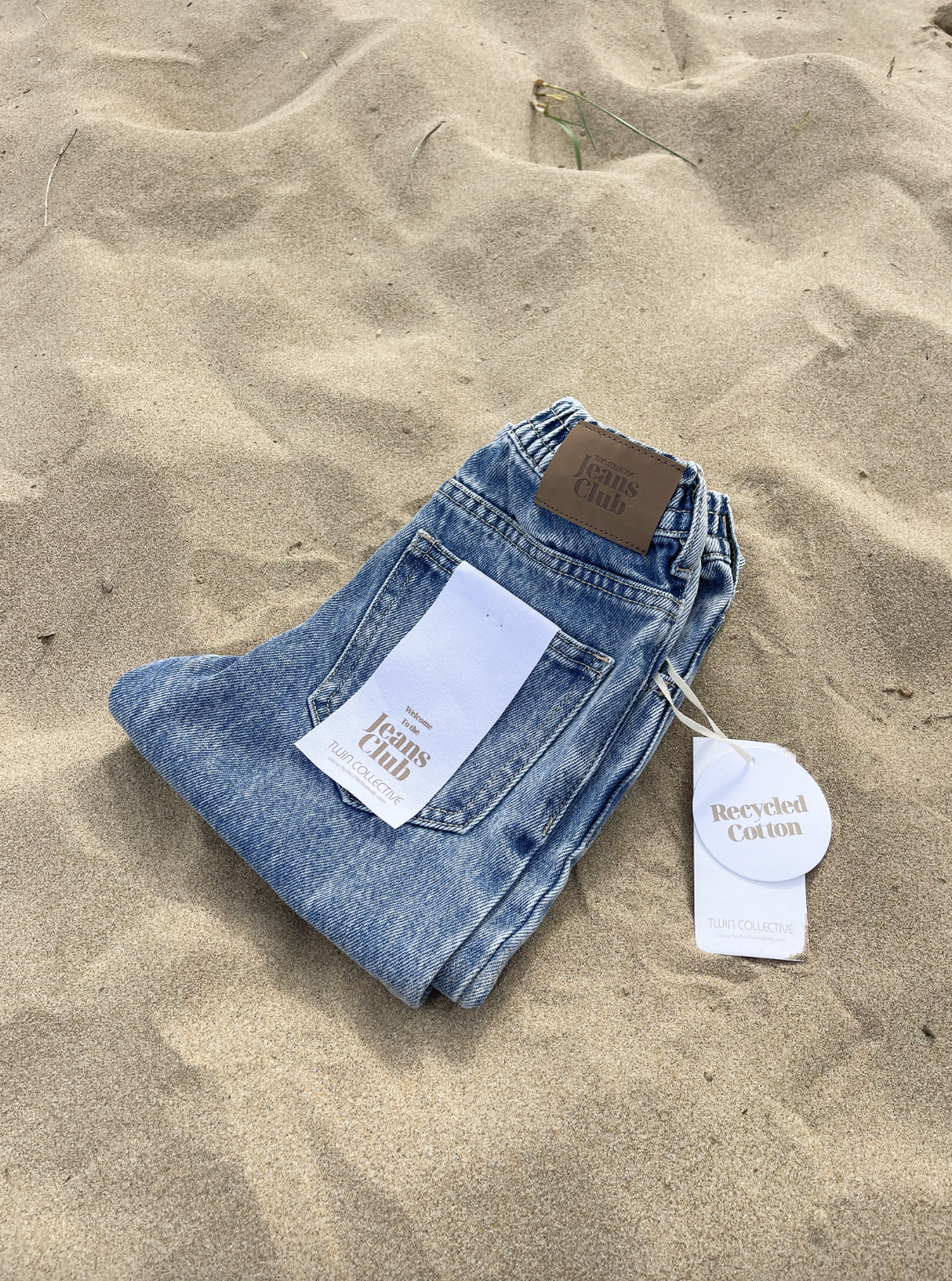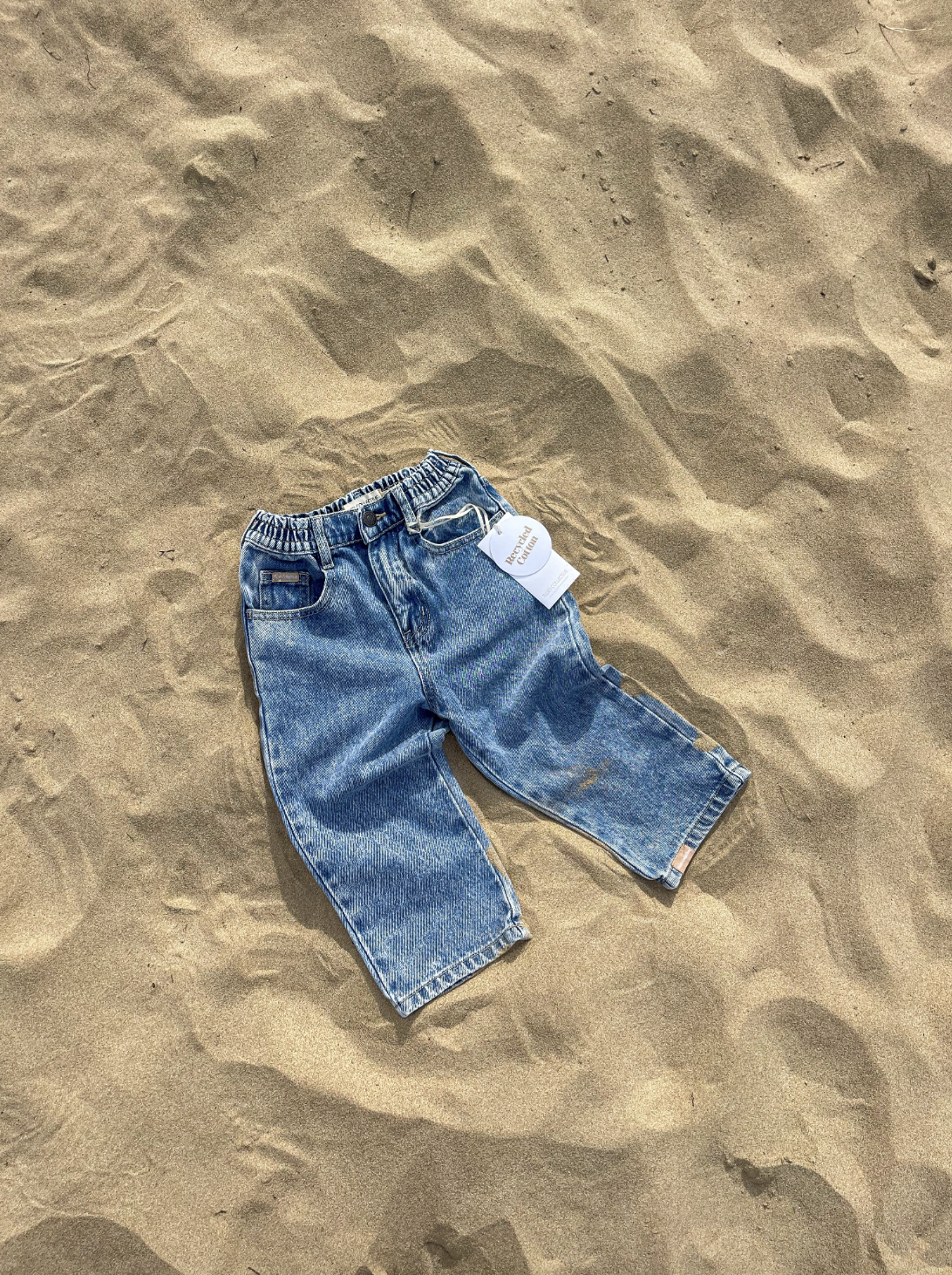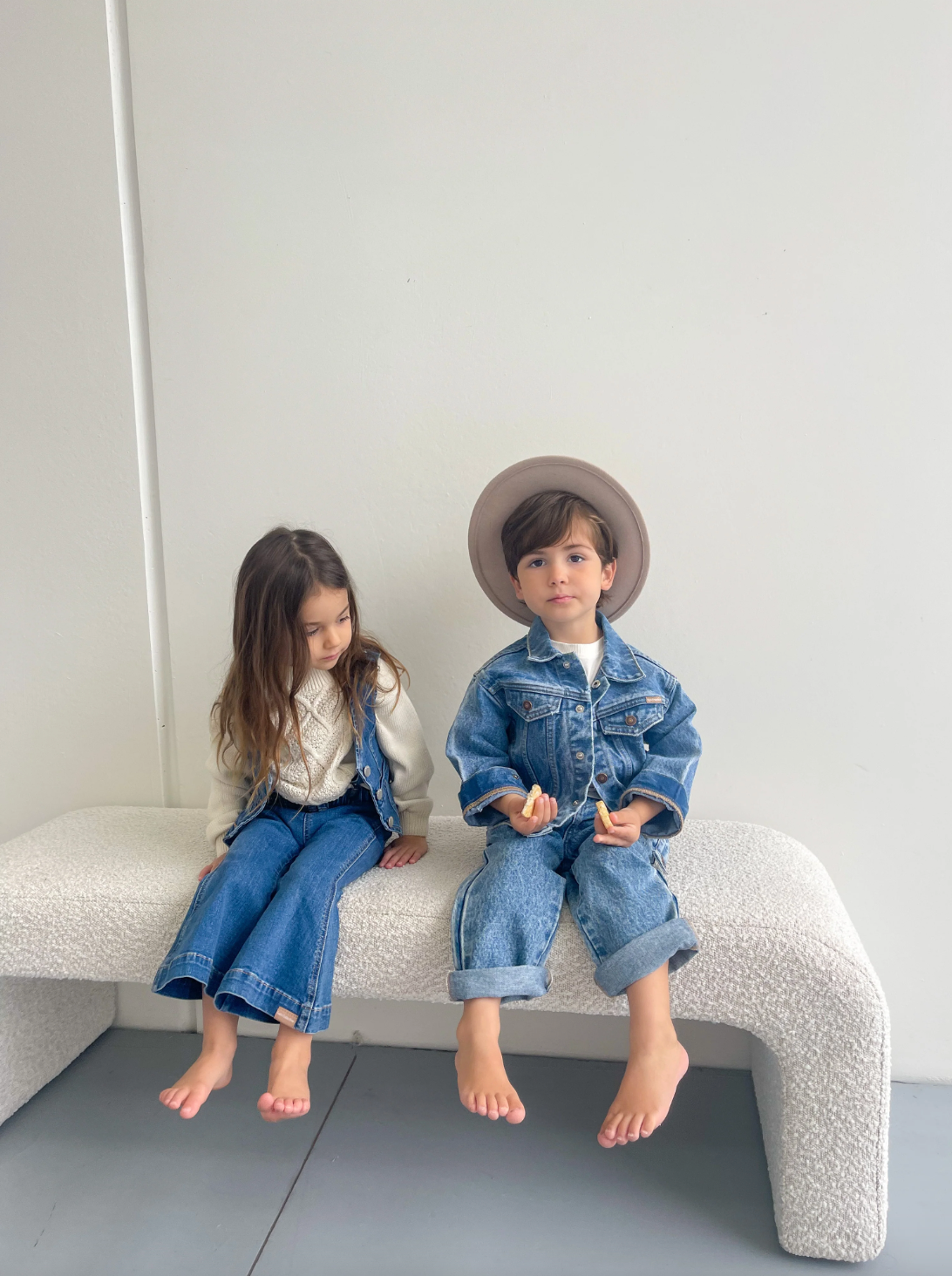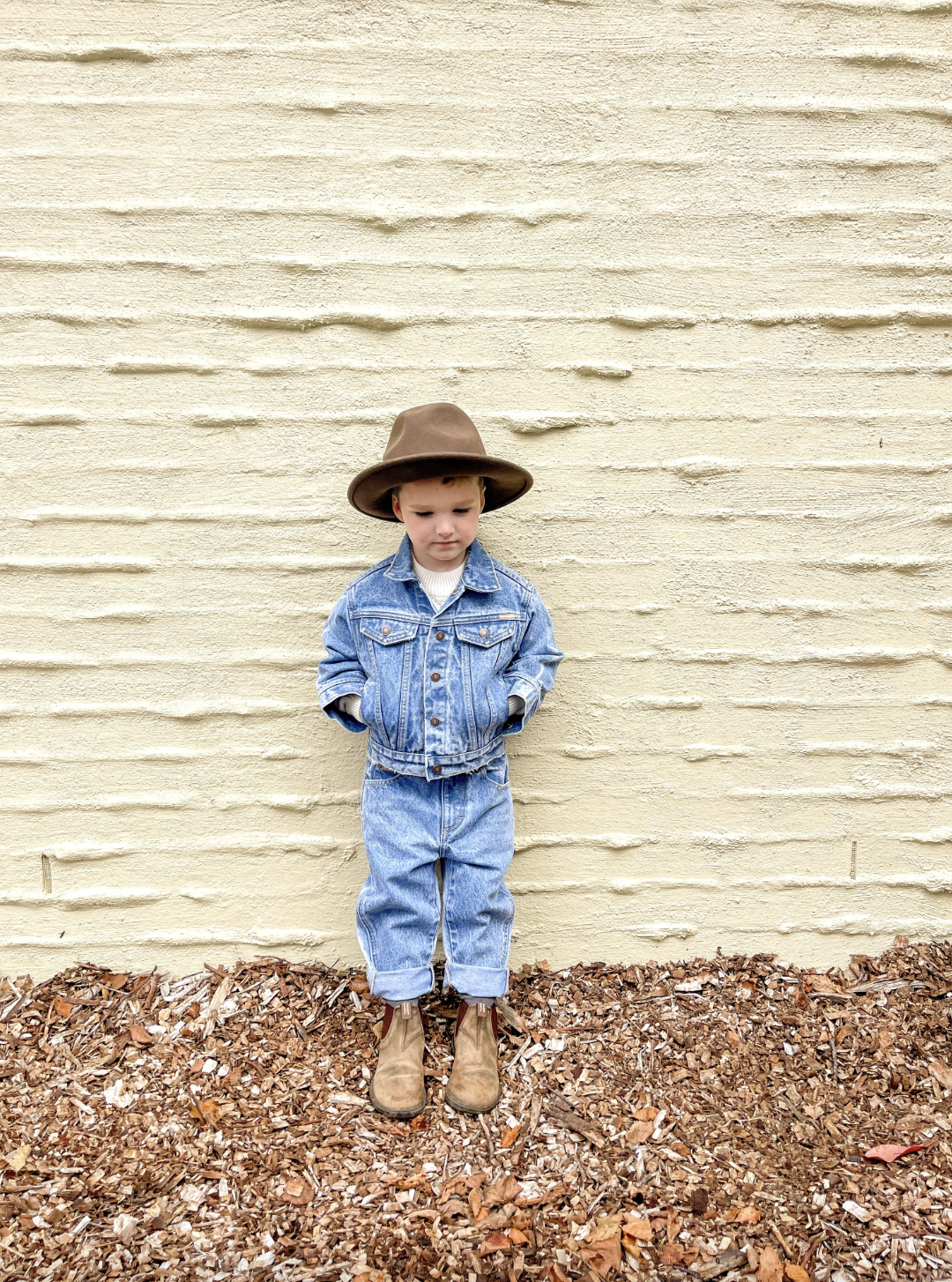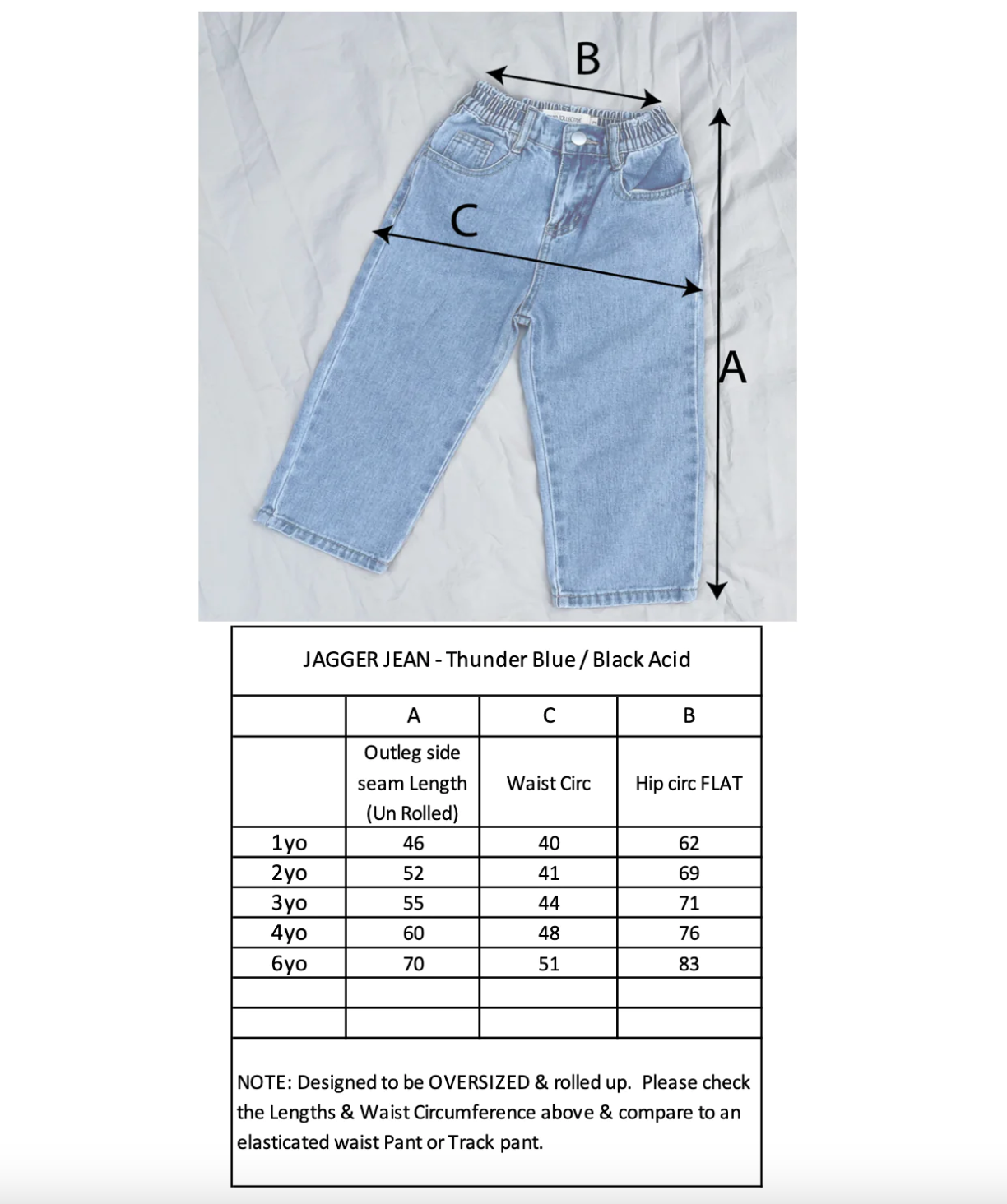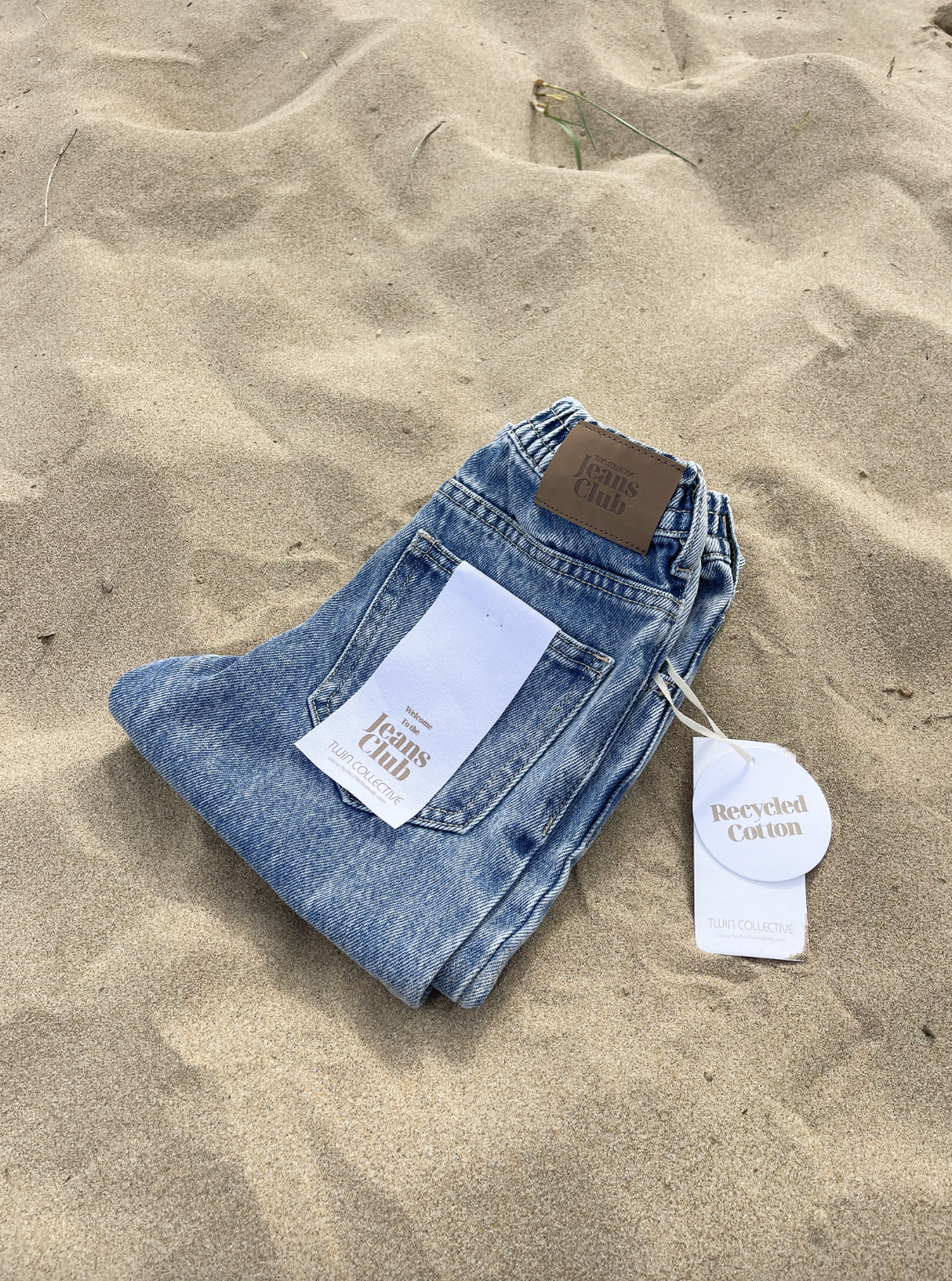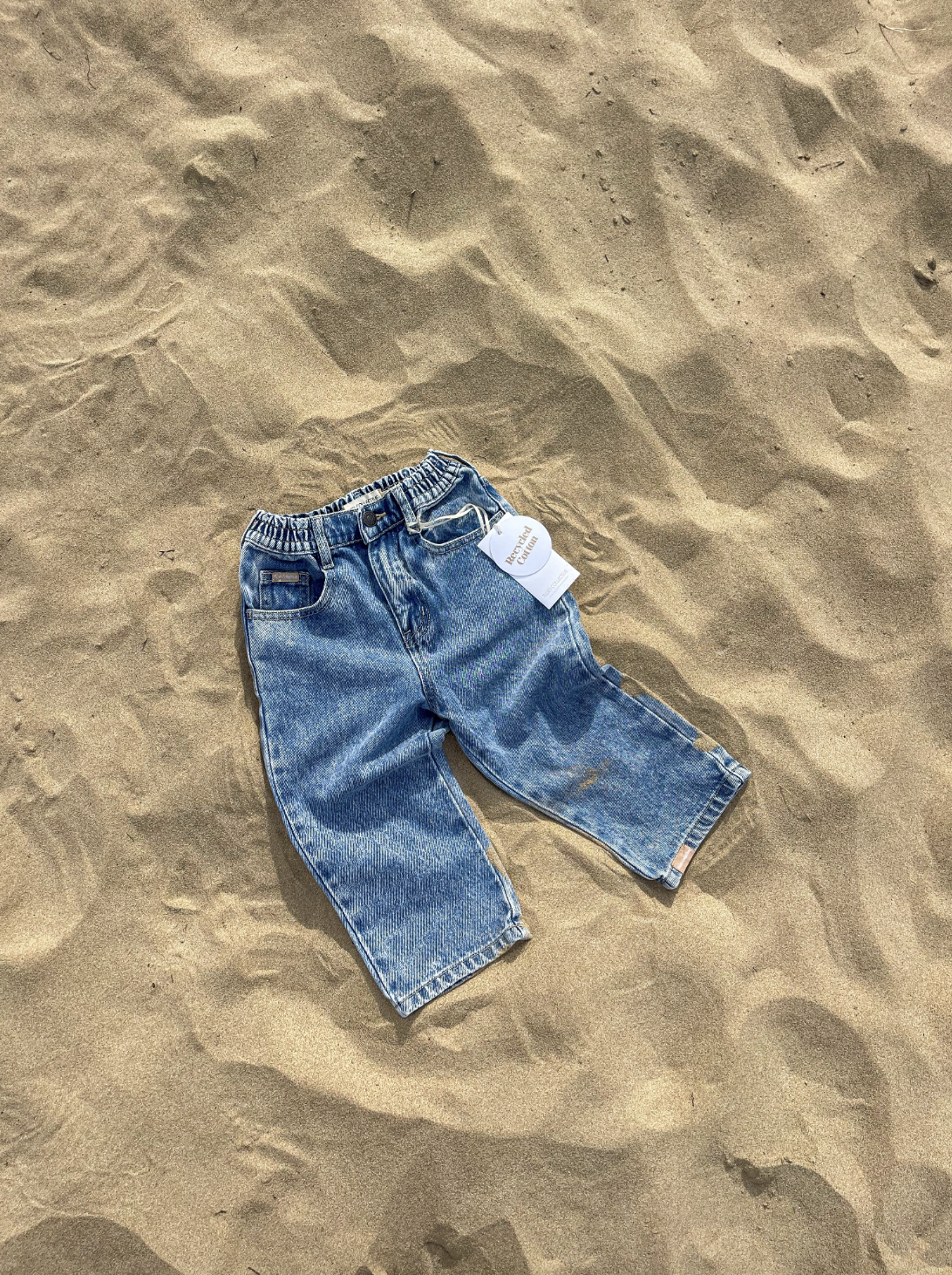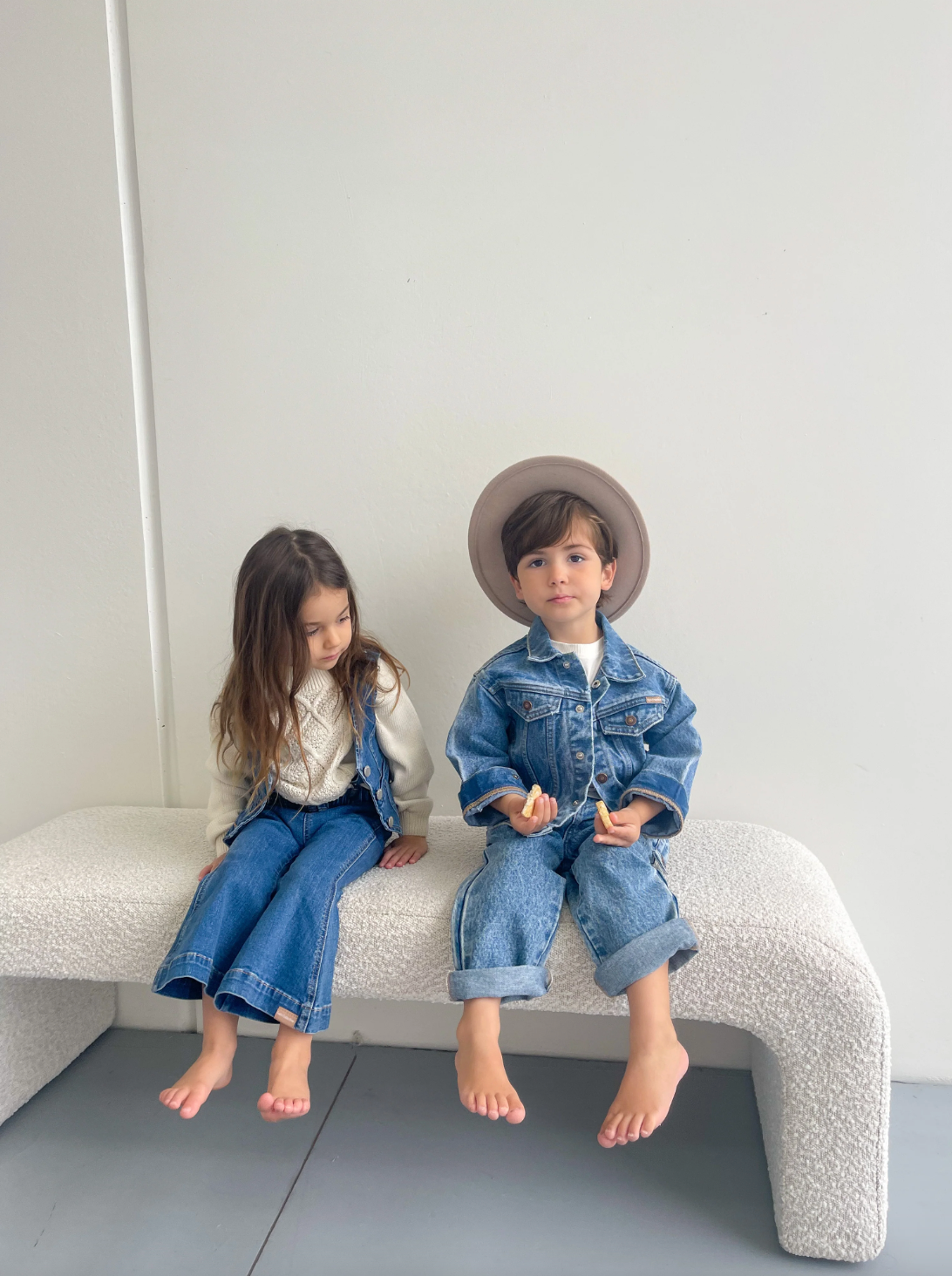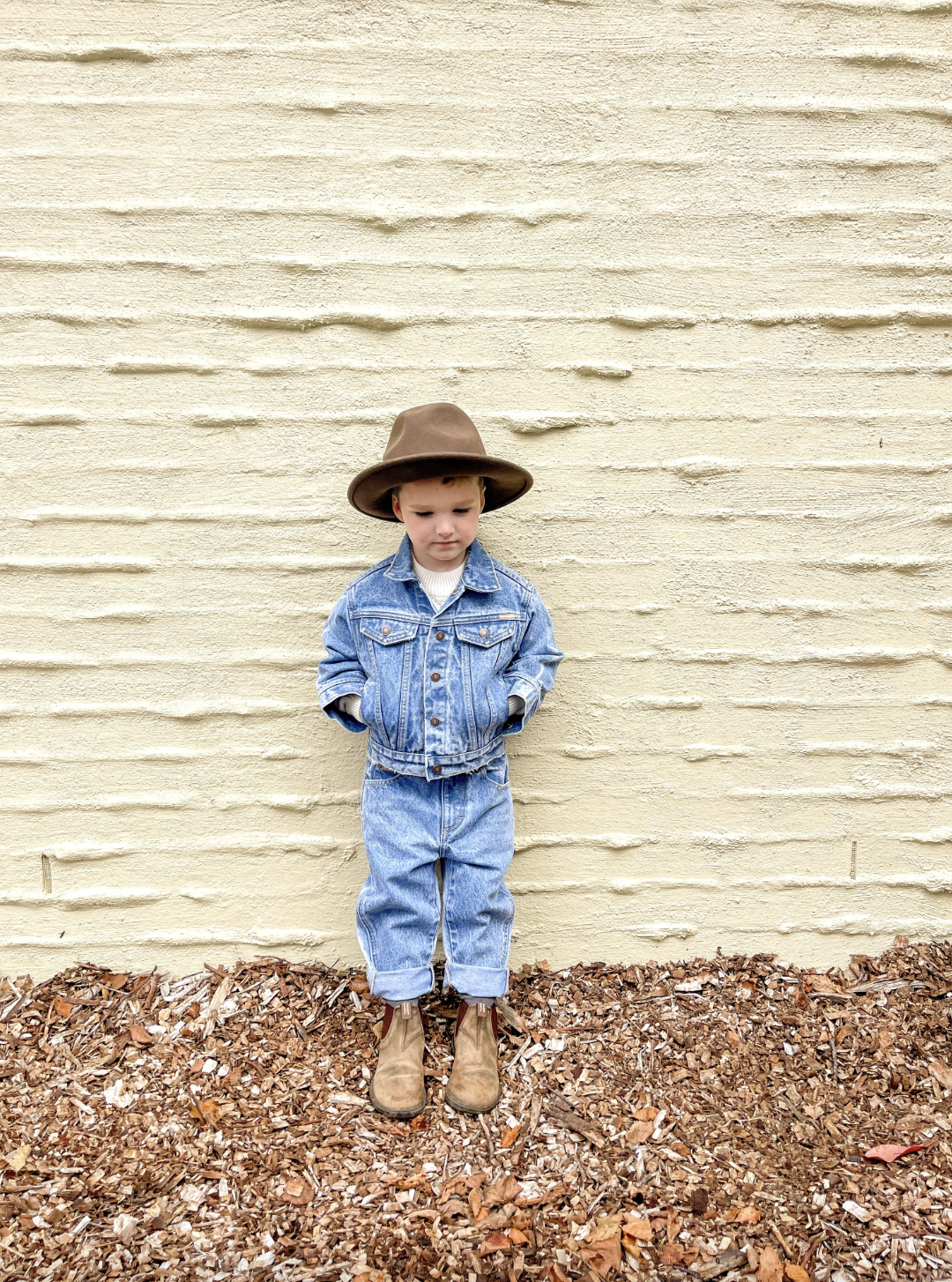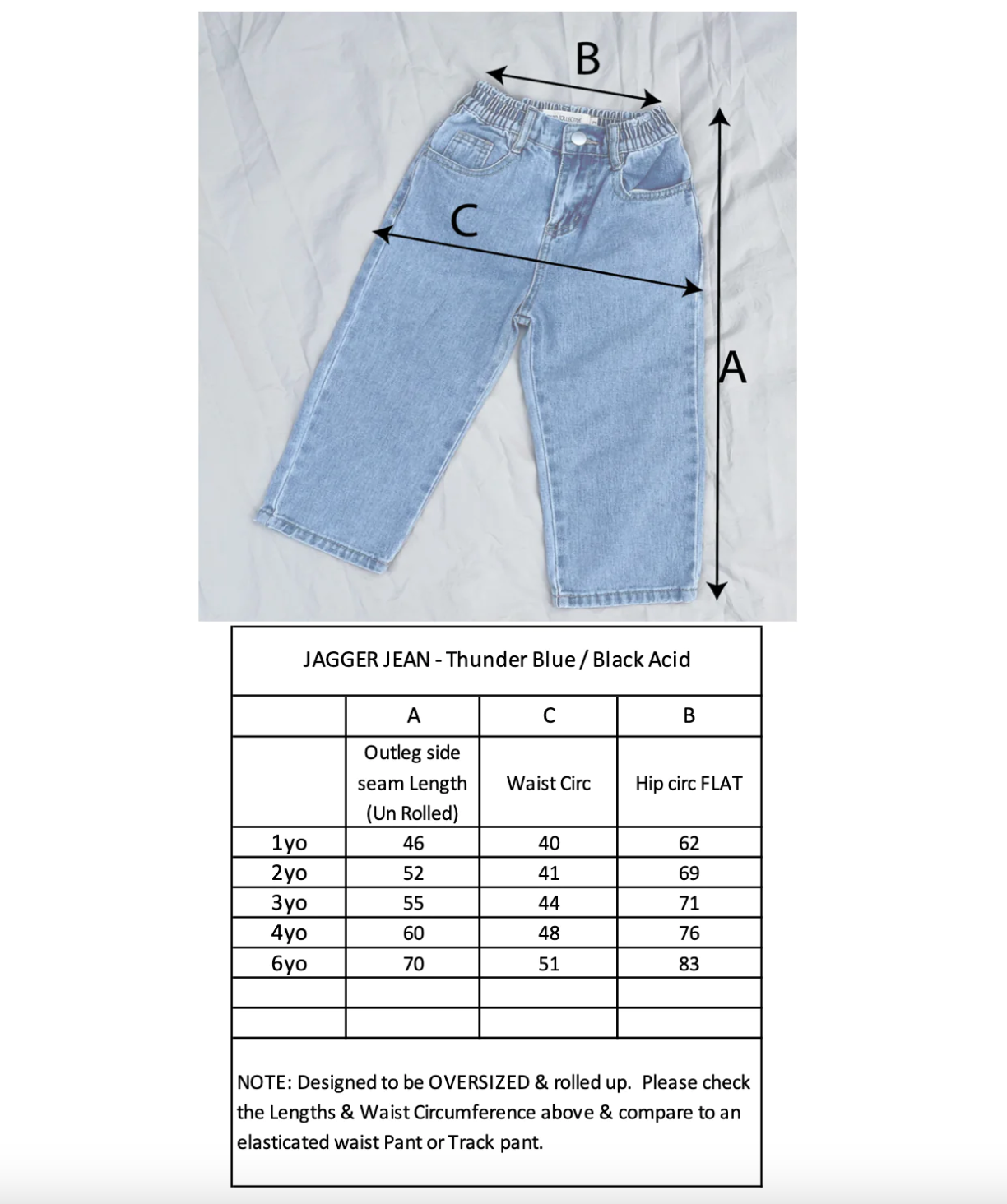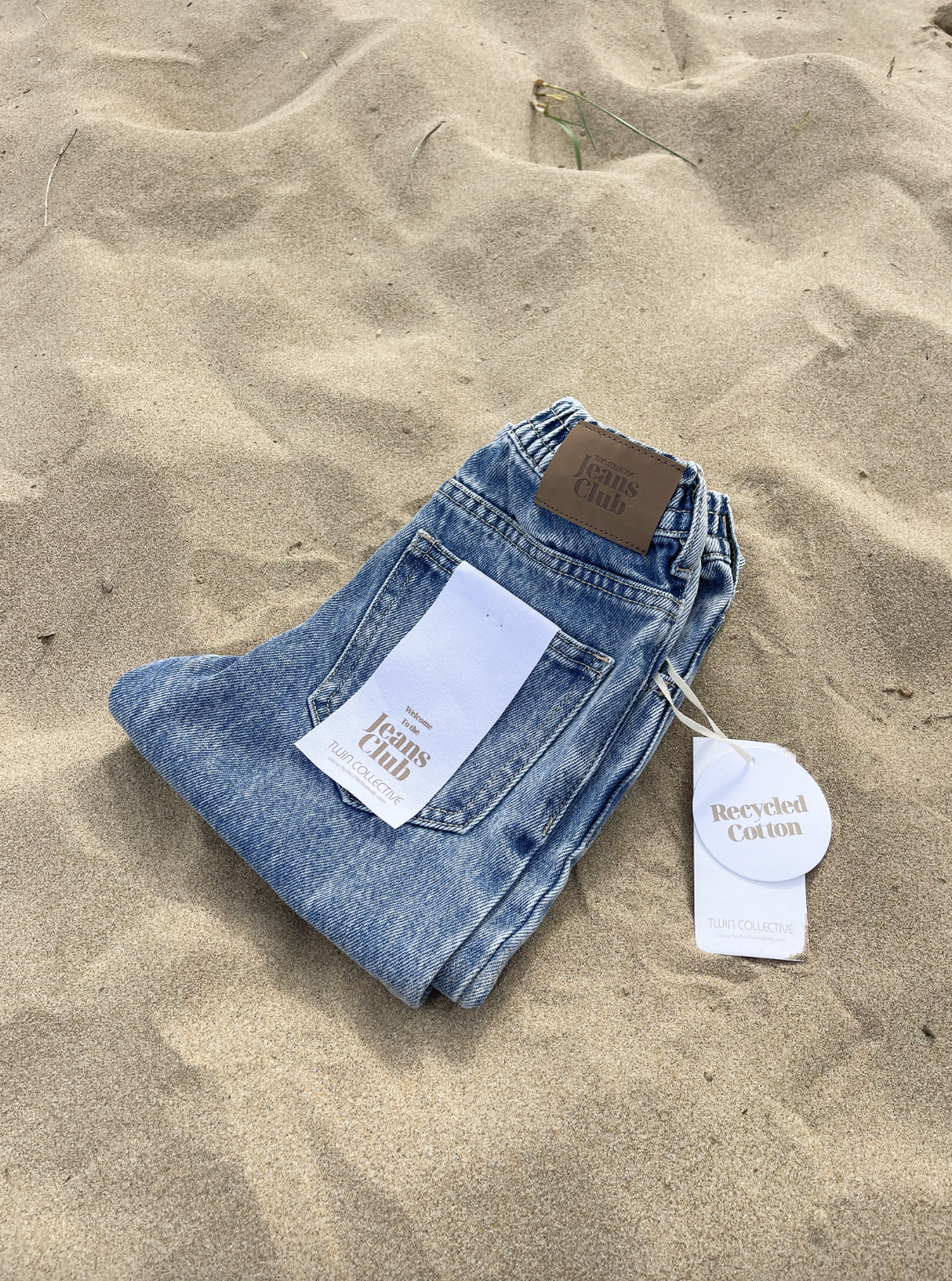 Jagger Jean - Thunder Blue
WELCOME TO THE JEANS CLUB
Because Skinny jeans are boring!  
Designed to be OVERSIZED & rolled up, I suggest sizing down as these are quite oversized around the waist. Please check the Waist Circumference on the size chart & compare to an elasticated waist Pant or Track pant.
FABRIC:  Made from heavy high quality sustainable 100% Cotton Denim, 12oz using Recycled Cotton fibres.  This fabric is made to wash, wear, repeat like an authentic vintage denim jean.
Designed in Melbourne, Australia.
SIZING - Please see size chart in images before making your purchase
Designed to be OVERSIZED & rolled up.
For best size choice, please check the waist Circ & compare with a simailr pant or a trackie elastic waist.  Also check the Outleg side Seam lengths in the size chart attached. Use a tape measure to check the length from side hip down on your child. The jeans are a loose & long in fit & will become 5-8cm shorter than the size chart once rolled up twice.
ASTON & WREN – 4 year old, wearing size 3yo, they can size up to the size 4yo for a more oversized look.
DENIM CARE – WORN IN DENIM & INDIGO DYES

Delicate machine or hand wash with eco-friendly washing liquid. Remove metal trims before washing where possible.
SHADING - Please note due to the denim washing process some pieces may vary in shade & colour slightly.  The natural indigo dye used to make denim fades naturally with wash, wear & sun. Dry in the shade, remove metal trims before washing to avoid the trims breaking or damaging other items of clothing or fabrics during the wash cycle.
VINTAGE LOOK - Our designs are inspired by Vintage worn & loved kids denim from the 70s, 80s & 90s so some abrasions, small rips & imperfections may appear on the seams, hem lines, waistband or elastic seam edges after the heavy washing process.  The lighter the denim shade, the softer & more worn in the garment will be.  If you do not like this beaten up vintage look with small abrasions & faded seams, please check our Collection for Darker Blue denim wash styles for a cleaner look.  However, if you receive your purchase & find some small abrasions have become larger tears or holes please get in touch!  Your garment should look vintage inspired, but not fall apart!
RECYCLED COTTON - Due to the nature of our Recycled Cotton denims, contrast coloured or darker cotton fibres can sometimes be mixed in with the yarns during the spinning process.  Once the denim is woven up & washed back, these imperfections can be more visible in the fabric & look like a small defect. We hope you can appreciate our commitment to supporting more sustainable fibres, fabrics & cotton farming, but if you feel these imperfections are too large or frequent, please get in touch!  I want all my customers to love, wear & pass on our Denims!
We hope you enjoy our denim as much as we do!
Don't forget to tag us on your social posts as we'd LOVE to see your blue jean babies!
Please see our Denim Care page & the garment Care Label to help you prolong the life of your denim purchases.
Marcella xxx